In 2009 The Diversity Project spent an amazing 10 weeks in  Bali, Indonesia, hosted by Universitas Udayana.
---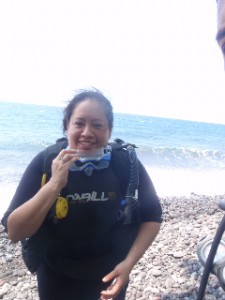 Name: Nereida Bravo
University: San Francisco State University
Major: Marine Biology
Project Title: Phylogeography of Neoglyphidodon nigroris across Indonesia
Comments on The Diversity Project: "The Diversity Project provided me with the opportunity to network with other professionals in my field and has helped me define my interest of study in evolutionary and population genetics. I now know that I want to further pursue my passion for the marine sciences by one day obtaining a doctoral degree. The project also allowed me to explore a different culture in Bali, which gave me an appreciation of what makes us all unique."
Where is she now? Nereida returned to SFSU and continued research on skates in the genera Raja and Dipterus in the lab of Dr. Karen Crow-Sanchez at San Francisco State University. Her project centered on proposing a molecular phylogeny for the genus Raja to investigate the evolution of multiple embryos per egg capsule within this group, in collaboration with Dr. Dave Ebert from Moss Landing Marine Laboratories. She is currently a biologist at Sequoia Ecological Consulting
---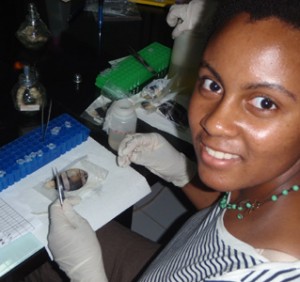 Name: Melissa Kemp
University: Williams College (B.A.), Stanford University (Ph.D.)
Major: Biology
Project Title: Population genetics of Amphiprion clarkii in the coral triangle.
Comments on The Diversity Project: "It's really difficult to find study abroad opportunities for undergraduate students in the sciences, and the Diversity Project is the best one that I've seen. It was a major learning experience in ecology, evolution, and genetics, but it was also a great way to immerse oneself into another culture. Definitely apply to this project, it is a once in a lifetime experience that you will never forget!! "
Where is she now? Melissa finished up her senior year at Williams by working on a Honors Thesis project in population genetics of Western Chorus frogs in Isle Royale Wilderness Park, Michigan. Upon graduation, she began her Ph.D. studies at Stanford with Liz Hadley, examining the paleo-population genetics of Anolis lizards from Caribbean islands. Melissa is a recipient of a National Science Foundation Graduate Research Fellowship. She finished her PhD from Stanford in 2015 and following a postdoctoral fellow at Harvard joined the faculty at University of Texas at Austin. You can read more about her here.
---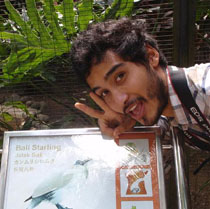 Name: Ernesto Alvarado
University: Humbolt State University (B.S.)
Major: Wildlife Management and Conservation / Ecology & Spanish
Project Title: Phylogeographic structure of Tripneustes gratilla throughout Indonesia
Comments on The Diversity Project: "I had never worked with genetic research but my experience during the Diversity Project introduced me to a new world of research, and what better in Bali Indonesia!, I never imagined that genetics can play a big role on the conservation and management of any species. Now I see genetic research as a tool that will help me in the future. I'm definitely applying this method to future research. and cant wait to take some more courses on genetics."
Where is he now? Ernesto graduated and is working as the Public Programs Coordinator for a public aquarium in Redondo Beach
---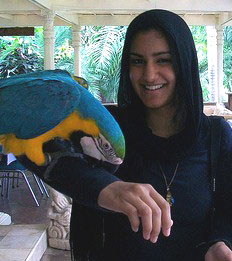 Name: Mehreen Mughal
University: Rutgers University (B.S.), King Abdullah University (M.S.)
Major: Genetics
Project Title: Genetic Structure of Dascyllus trimaculatus.
Comments on The Diversity Project: "The Diversity Project was an amazing experience. My most distinct memory is of seeing coral reef for the first time. I could not have wished for a better exposure to the marine world. In lab I learned not only skills important to any molecular lab, but also how to analyze and apply my results. I got to look at population genetics from a phylogeography point of view which was really interesting. The experienced scientists I worked with also gave me advice on how to be successful in this field. Spending a whole ten weeks in Bali gave us the opportunity to learn a lot about Balinese culture, meet awesome people and see the beautiful island. I got to travel, learn, have an amazing summer and have it look good on my resume!"
Where is she now? Mehreen is finished her undergraduate degree at Rutgers. Her her senior thesis evaluated the validity of the stepwise mutation model of microsatellite evolution. She presented her Diversity Project studies at the Ecological Genomics Symposium in Kansas, November 2009. She completed her masters  at King Abdullah University in Saudi Arabia and is now a Ph.D. student in the Huck Institute at Penn Statue University.