In 2010 The Diversity Project returned to Bali, Indonesia, hosted by the newly opened Indonesian Biodiversity Research Center at Universitas Udayana.
---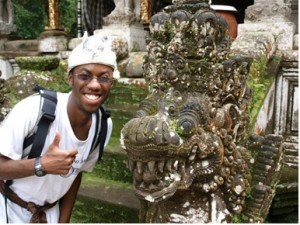 Name: Kadeem Gilbert
University: Cornell University (B.S.), Harvard (Ph.D)
Major: Natural Resources
Project Title: The Phylogeography of Acanthaster plancii in Indonesia.
Comments on The Diversity Project: "The Diversity Project was definitely a pivotal experience in my undergraduate years. I gained so much academically, culturally, and linguistically from participating in the program. It helped me further reevaluate what I want to study. I am very grateful that I learned genetic techniques from this program; I learned valuable skills that I would like to apply in the future. I am also very grateful that the program allowed me to practice my Bahasa, meet interesting people, and experience the wonderful culture and beauty of Bali. It was a truly amazing experience, which I highly recommend to any undergrad with any interest in biodiversity."
Where is he now? Following the Diversity Project, Kadeem returned to Cornell for the first semester of his junior year and studied abroad in Spring 2011 on Bioko Island, Equatorial Guinea, which included doing a research project investigating the correlation between land snail diversity and abundance and altitude. During the ensuing summer, he worked as a field technician for a graduate student's project which seeks to estimate the population size of black bears in the Southern Tier of New York State using noninvasive genetic sampling. He is now back at Cornell for his senior year where he is completing an honors thesis on his ongoing research on forest floor invertebrates. After earning his Ph.D. in Organismal and Evolutionary Biology at Harvard University, he started a postdoctoral fellowship at Penn State University.
---
Name: Luisa Rubio
University: Florida State University (B.S.)
Major: Biology
Project Title: Population genetics of groupers in Western Papua
Where is she now? Luisa finished her degree at Florida State in 2011 after completing her honors thesis "How does population density affect the rate of regeneration in Dugesia tigrina". Having spent 2 years as a teaching assistant for introductory biology classes at FSU, she is current teaching middle school biology courses in Bogota, Columbia, while she applies to graduate programs.
---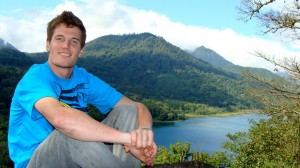 Name: Jeremy Rude
University: Humbolt State University (B.S.), U.C. Santa Barbara (M.S.)
Major: Environmental Policy
Project Title: Phylogeographic structure of stingray (Neotrygon kuhlii) in Indonesia.
Comments on The Diversity Project: "I can't imagine a more appealing and valuable opportunity to learn about molecular ecology than through the Diversity Project.  The chance to collaborate with Indonesian students and professionals was extremely beneficial; it gave me a new perspective by exposing me to conservation approaches from a different culture, and improved my communication skills. The experience definitely strengthened my understanding of the science behind ocean conservation policy and how it is influenced. Meeting a contact during my time in Bali as an undergrad influenced my entire master's project, which is based in Indonesia. I absolutely recommend the Diversity Project to anyone who has an interest in marine biology."
Where is he now? Jeremy finished his undergraduate studies in 2011. He is currently a graduate student at U.C. Santa Barbara in the Environmental Science and Management program. His thesis work is focused on the impact of land-sea interactions on coral reefs, and will focus on Western Papua, Indonesia. Jeremy is a recipient of a National Science Foundation Graduate Research Fellowship. He is now the Fishery Progress Program Manager at FishChoice.
---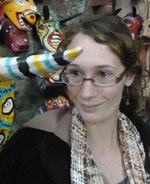 Name: Emilie Stump
University: Old Dominion University (BS) U. British Columbia (MS)
Major: Biology
Project Title: Population structure of the three spot damselfish, Dascyllus trimaculatus.
Comments on The Diversity Project: "Participating in the Diversity Project has given me knowledge of a powerful tool which can be applied across disciplines to answer many challenging and interesting questions. Living and working in Bali has inspired me to continue my studies across cultures and on an international scale, and was one of the most immersive and amazing experiences that I have ever had."
Where is she now? Emilie will be graduating from Old Dominion University in December 2012. During her final years as an undergraduate student, Emilie worked as a research assistant at ODU helping to assess the extinction risk status of marine species as part of the Global Marine Species Assessment, a specialist group of the International Union for the Conservation of Nature (IUCN). Due to her participation in the Diversity Project and a continued interest in the many applications of molecular techniques, Emilie successfully applied to the California Academy of Science's Summer Systematics Institute, where she will be working on the phylogenies of several genera of reef fauna in the summer of 2012. After  serving in the U.S. Peace Corps, she went to U. British Columbia for her Masters degree. She now is a Fisheries Biology at Saltwater Inc.
---
Name: Mariam Sawary
University: U.C. Berkeley
Major: Molecular and Cellular Biology
Project Title: "The Phylogenetic Breaks of Neoglyphidodon nigroris in the Indo West Pacific."
Comments on The Diversity Project:"The Diversity Project was amazing! Through the time spent in the lab I learned a great deal in regards to what research consists of, including actual lab techniques, data organization and analysis, and good lab practices. The field work was also a great experience; there is nothing that compares to the coral reefs surrounding Bali, especially the vertical reef in Tulamben. What really sets the Diversity Project aside however is the unique interaction you have with the Indonesian people, including the undergraduate and graduate students in the lab. Having the opportunity to live and travel in Bali, from the rural villages to the cities, allowed me to learn more about myself in many regards, especially in my desire to work with the international community. I highly recommend the Diversity Project to anyone who wants to learn more about research while gaining valuable experiences abroad."
Where is she now? Mariam is finishing her degree at U.C. Berkeley. After lots of thought, she  decided to pursue a career in medicine  and is currently a medical resident at UCLA.