In 2011, The Diversity Project returned to the Indonesian Biodiversity Research Center for a new and expanded curriculum.
---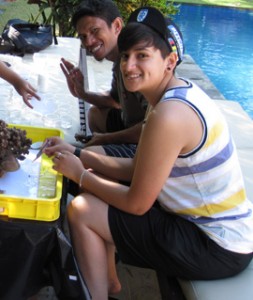 Name: Gina Carillo
University: U.C. Santa Cruz (B.S.)
Major: Environmental Studies/Education
Project Title:
Where is she now? Gina finished  her undergradaute studies at U.C. Santa Cruz and is an environmental activist and Senior bilingual education specialist at the Monterey Bay Aquarium.
---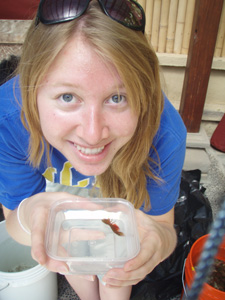 Name: Andie Chan
University: UCLA (B.S.) Penn State (Ph.D)
Major: Marine Biology
Project Title: Biodiversity associations with reef-dwelling stomatopods
Comments on The Diversity Project: "Being a part of the Diversity Project was an invaluable experience.  I learned so much about not only collection techniques, data analysis, and scientific writing, but also graduate school and what life has in store for me post-graduation.  Receiving specific guidance from leading scientists from the Smithsonian Institution and the National Evolutionary Synthesis Center helped me determine what scientific field I am most interested in, and thus helped shape my future research goals.  Working in collaboration with the Indonesian students made this project so much more enriching.  We learned a great deal from each other, despite the language barrier, and worked hard to produce results in the end.  I forged some great friendships halfway across the world, and I intend to go back to Bali and continue researching someday."
Where is she now? Andie finished at UCLA and her PhD student with Iliana Baums at Penn State with support from the  NSF GRFP Fellowship. She is currently a Knauss Marine Policy Fellow at NOAA.
---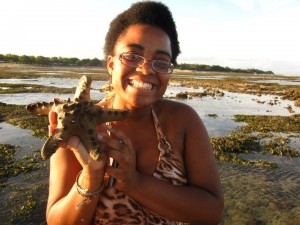 Name: Victoria Mogan
University: Cornell University (B.S.) UC Davis (PhD)
Major: Biological Sciences with a concentration in Ecology and Evolutionary Biology and a specialization in Marine Science. Minor in Natural Resources
Project Title: Using Alpheidae as a Proxy for Measuring Overall Decapod Diversity in the Coral Triangle
Comments on The Diversity Project: "My time with the Diversity Project was absolutely spectacular. It is still hard to believe I got the chance to go to a foreign country to conduct research on coral reefs alongside leading scientists in the field. I made wonderful friends over the summer and forged lasting memories. I learned how to snorkel and SCUBA dive, and I'll never forget my first underwater breath and my first dive on the USS Liberty Wreck in Tulamben. And going to Indonesia piqued my interest in living in Asia for a time longer than two and a half months — I'm definitely planning on returning in the near future!"
Where is she now? Victoria finished her degree at Cornell and continued herwork on the diversity of snapping shrimp (Alpheids) as her senior thesis. In March 2012, she went to the Smithsonian Institution to work on Alpheid taxonomy with Dr. Nancy Knowlton. In 2015, she was awarded an NSF Graduate Research Fellowship and is finishing her PhD studies with Rick Grosberg at UCLA. She just receive a prestigious postdoctoral fellowship at Stanford University.
---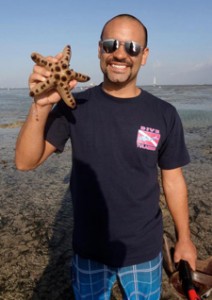 Name: Brian Montenegro
University: University of Hawaii, Manoa
Major: Marine Biology
Project Title: Coral head biodiversity: a comparison from Permuteran and Nusa Lembongan
Comments on The Diversity Project: "The Diversity Project was an amazing time academically and personally! Working side by side other Indonesian students, graduate students, post docs and big named scientists allowed me to really dive into the material and gain a knowledge that I didn't know was possible while also having a great time in the process. The people and culture of Bali were very welcoming and I made life long friends. The lectures, lab work, and field work helped to increase my knowledge of molecular ecology and biodiversity, while giving me valuable skills that I will be able to use in the future. To be part of the Diversity Project was an essential step toward achieving my goals of graduate school and becoming a marine biologist. I cannot wait to continue my international research in Indonesia and other places!"
Where is he now? Brian graduated from the University of Hawaii with a B.S. in marine biology.
---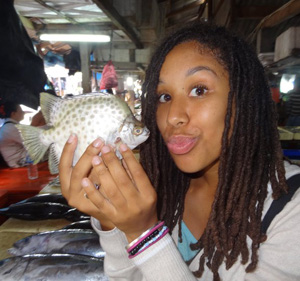 Name: Olivia Walton
University: Cornell University
Major: Natural Resources
Project Title:
Comments on The Diversity Project: "I had beyond an amazing time! The Balinese people and culture are enough to captivate you forever, then on top of that you are learning scientific skills that will give you a serious edge academically and working with some of the leading scientist in the United States. The Diversity Project really helped me to choose a focus in my field, and I ended up learning so much not only about the coral reef community, but also about myself."
Where is she now? After finishing the summer with The Diversity Project, Olivia headed to Australia where she spent the fall semester at James Cook University studying marine biology. She then participated in the Cornell Sustainability Semester in Hawai'i. After completing her undergraduate degree at Cornell, she went on to earn her Master's of Environmental Science at the University of New Haven. She was a Switzer Fellow and was selected by The North American Association for Environmental Education (NAAEE) for its fifth class of 30 leaders under the age of 30.
---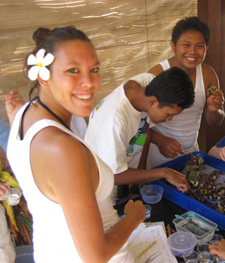 Name: Erica Warkus
University: Arizona State University
Major: Conservation Biology and Ecological Sustainability
Project Title: Coal Head Biodiversity Associations: examining community interactions between arthropods and echinoderms
Comments on The Diversity Project: "I opened the email from Paul with one hand covering my eyes, as I peered through the cracks between my fingers. I was ecstatic when I was selected as a Diversity Project intern, and the summer did not disappoint. I remember being dazed and confused when I first wandered out into the Bali sunshine, but that quickly passed, and the summer was the best one of my life so far. The American and Indonesian students in the program were able to experience the most amazing research opportunities, and I was stunned by the diversity and complexity of the organisms we studied. I was particularly fascinated by the echinoderm community. I was given the chance to design and implement my own research project paralleling the group's research. In February, I presented my findings at the American Association for the Advancement of Science (AAAS) annual conference 2012 in Vancouver, Canada. I have also received a U.S. Student Fulbright award to continue my research on echinoderm communities in Indonesia for 2012-2013. The Diversity project was a life-changing experience, and I am exceptionally grateful to have been a part of the Barber lab."
Where is she now? Erica finished her degree at Arizona State University. In February 2012 she travelled to Vancouver, Canada, to present her summer research on echinoderm diversity at the annual meeting of the American Associate for the Advancement of Science. She returned to Indonesia as a Fulbright Fellow to continuing her studies on echinoderm diversity. Although her love of the ocean remains unabated, she earned her M.D./Ph.D. and is now a Sarasota Emergency Medical Resident. Read more about Erika here.